10 Oct 2019
THE ASIAN ASSOCIATION OF CANINE HYDROTHERAPISTS IS LAUNCHED AT SINGAPORE VET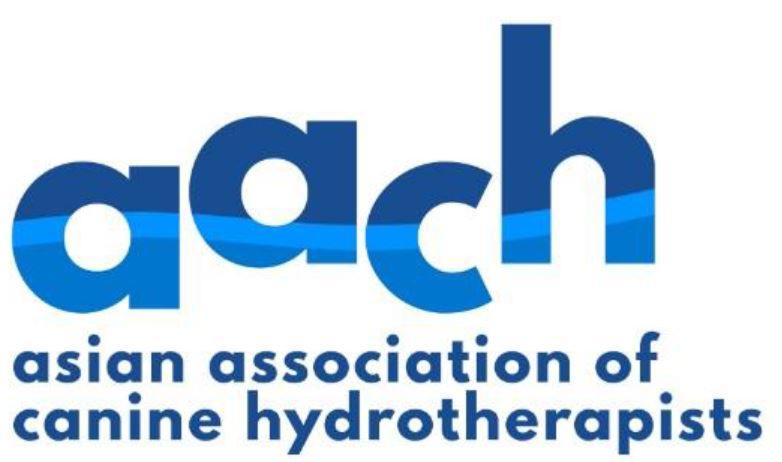 Pet ownership in Asia is growing at a phenomenal rate and these owners want better care for their pets. Hydrotherapy is a recognised as a form of rehabilitation mostly in other parts of the world but here in Asia the growth is rapid. AACH has been set up to ensure that dog owners, veterinary professionals and anyone seeking proper standards and guidelines in canine hydrotherapy have an organization refer to.

AACH is a nonprofit organization that will maintain a list of professionally trained canine hydrotherapists that adhere to animal welfare standards and ethical practice. Registered members are required to have recognized qualifications, extensive training and continued education records. Only hydrotherapy centers that are owned by, or employ, AACH registered members will be listed on their website.
One of the objectives of AACH is to help members to develop in all aspects of their professional career with continued education. Members will have opportunities to access:
organized training modules by related training providers
special rates for online education
exchange and internship programs with approved hydrotherapy centers
links with overseas hydrotherapy centers
special rates for hydrotherapy supplies
Once approved members will be listed as a member of AACH on the website and able to use the AACH logo on their websites, social media and publicity materials.

More information from:
Anna Tong - Founder
Mobile: 0065 9622 2439 Office: 0065 9270 6290 Email: athydropawsplus@gmail.com

Angela Griffiths – Consultant
Mobile: 0044 7957 431436 Email: angela@greyfriarsrehab.co.uk
Photographs are available from Angela Griffiths

About the organization
AACH Role

We ensure that all registered members in Asia are professionally trained.
Anyone, including veterinarians and related professionals, can view:
Member qualifications
Training records
Continuing education records
Details of facilities and services offered
Professional standards
AACH will ensure all members maintain the highest ethical and professional standards. All members must complete a 15 hours continued education per year.
Why AACH members?
By choosing an AACH registered member, pet owners can have confidence that their pet is in the hands of a hydrotherapist who has been trained in canine hydrotherapy, is qualified and will put the dog's well-being as their top priority.
Advice for owners?
The AACH website will provide information for pet owners to check hydrotherapy centers and the professional staff before deciding where to take their dog. In addition the website will advise owners to talk to veterinary professionals, friends who have dogs and to personally visit the facility to check on what they can provide. It is important that owners understand that appropriate hydrotherapy treatment is essential for their pets recover. Owners will be advised to check what is needed for their pet considering their injury, surgery, condition, behavior and breed - it could be hydrotherapy pool, underwater treadmill or both. Sometimes the nearest hydrotherapy center may not be able to meet their pet's specific treatment needs.