25 Aug 2022
Massey University's Master of Veterinary Medicine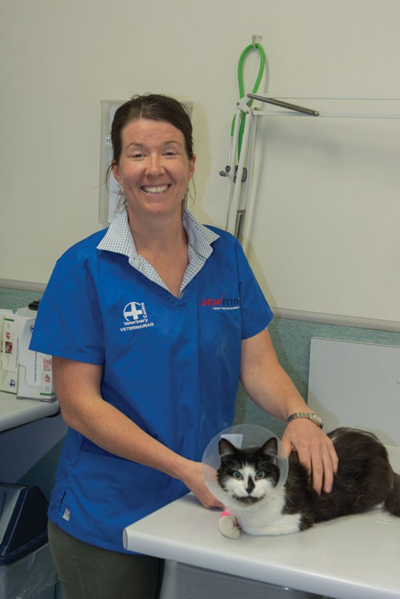 Delivered by distance, the MVM programme brings the world's veterinary expertise to your door. The classroom comes to you through interactive technology and study guides. Led by lecturers with international recognition from around the world, our courses have a reputation for their in-depth, comprehensive review of subjects and use of real-life case studies.
Felicity Morris shares her experience at Massey.
Why did you choose the MVM?
Having graduated from Massey University it was a no brainer to further my veterinary skills by enrolling into the MVM course. I really liked the ability to choose papers that appealed to me and I made sure to select a mix of subjects that would build on my BVSc degree. I based these choices on topics I felt I needed a really good core understanding of on a day-to-day basis; diagnostic imaging and clinical pathology and topics I struggled with and wanted to turn that around into enjoying them—dermatology and ophthalmology and orthopaedic surgery.
I liked the idea of short term goals of a paper or two a year with the long term goal of completing MVM capstone in 5-10 years allowing time for OE's and new family additions.
How long after graduation did you do the MVM?
I started my first MVM paper in my third year out from graduation. Oamaru Veterinary Centre has been extremely encouraging and supportive of my goal in this achievement right from the start which I am really grateful for. My MVM journey has definitely been a 10 year marathon with many twists, turns and hurdles, but the MVM team were understanding and made sure to assist me in reaching my end goal of completing the capstone dissertation. I was lucky enough to join in on a skype meeting with Dr Nick Cave who said everyone should/must undertake a research project if not for the findings but for the process and I can totally understand this now
What have you got out of the MVM?
My confidence as a small animal practitioner has grown and I now fight for the chronic itchy skin/ear infections or sore eyes that haven't come right with three different medications. I also love sharing my knowledge with my colleagues and students seeing practice so the whole company can benefit and grow from my completed continued education.
How has it affected your future career?
For me completing the MVM has been a personal goal in assisting my development in becoming the best vet I can be. Completing the MVM has made me realise how much I don't know and that is still to be learnt, and just because I have now achieved the MVM letters after my name it by no means means I don't intend to complete more MVM papers in the future. It has concreted that my place is in small animal clinical practice and again I am grateful for having a 'local' world re-nound Veterinary University providing such a well structures and supported MVM course and Oamaru Veterinary Centres for its solid support along this journey.
Visit Massey University of New Zealand
Courses offered in February 2023
Companion animal courses:
Clinical Reproduction and Fertility
Dermatology
Emergency Medicine
Endocrinology
Production animal courses:
Clinical Reproduction and Fertility
Advances in Ruminant Nutrition
Epidemiology courses:
Introduction to Evidence Based Practice
Business courses:
Leadership & People
Courses offered in July 2023
Companion animal courses:
Ophthalmology
Orthopedic Surgery
Neurology

Production animal courses:
Cattle Lameness
Epidemiology courses:
Applied Veterinary Epidemiology
Business courses:
Marketing