24 Aug 2022
Meet Dr. Patrick Maguire from Beecroft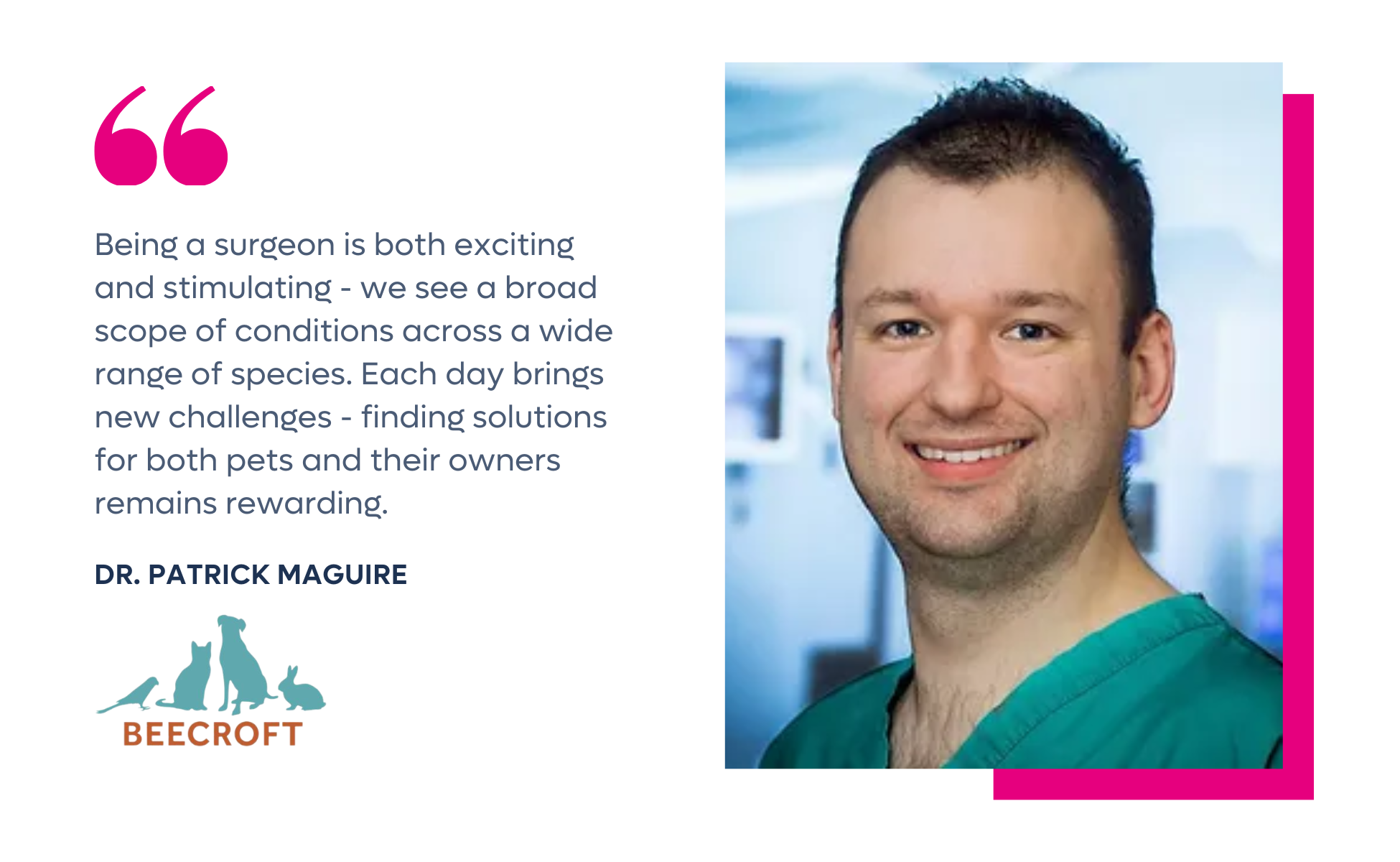 Q: In a short sentence, tell us about yourself and what your role at Beecroft?
I am a small animal surgical specialist - I did my surgical training and certification in the US under the American College of Veterinary Surgeons. I have been working in Singapore for the last 7 years and I am the co-founder and surgical head at Beecroft Animal Specialist Services in Alexandra. I am originally from Australia and developed my love of surgery during vet school in Sydney, Australia.
Q: What is it like being a Specialist Vet Surgeon? And What do you love the most about the job?
Being a surgeon is both exciting and stimulating - we see a broad scope of conditions across a wide range of species. Each day brings new challenges - finding solutions for both pets and their owners remains rewarding.
Q: A lot of people are animal lovers, yet what are the top three characteristics you might look for when hiring a vet or animal care worker?
When looking for attributes in prospective employees the top three are motivation, compassion, and the ability to work together as part of a team.
Q: Do you receive many weird questions from pet parents and what is the weirdest you have ever received?
Perhaps the strangest request I had from a client was to preserve their dog's amputated limb so that it could be turned into a lamp. Of course, the request was respectfully declined, and the limb was submitted for histopathology instead.
Q: What's Beecroft's mission for 2022 and What are you looking for the most at Singapore Vet show?
Beecroft's mission for 2022 has been to bring people from different backgrounds and areas of expertise together to create a world-class referral facility. As the pandemic winds down (hopefully) I am looking forward to reconnecting with colleagues in a conference environment at Singapore Vet Show.
*****
Dr Patrick Maguire graduated from the University of Sydney with First class honours and obtained his specialist qualifications with the American College of Veterinary Surgeons in 2014. His areas of interest include trauma, reconstructive, orthopaedic, soft tissue, and neurosurgery. Dr Maguire has presented research at both US national and international conferences on topics including angular limb deformity wound healing and radiographic positioning. Dr Maguire maintains memberships with the Veterinary Orthopaedic Society and is a committee member of the Singapore Veterinary Association.
Catch his speaking session on Patella stabilisation - surgical indications, techniques & pitfalls on 14-Oct-2022 at 10:20– 11:10
Meet Beecroft Animal Specialist and Emergency Hospital at Singapore Vet 2022 Booth D34