30 Sep 2022
Now Available Anytime: Essentials of Cytology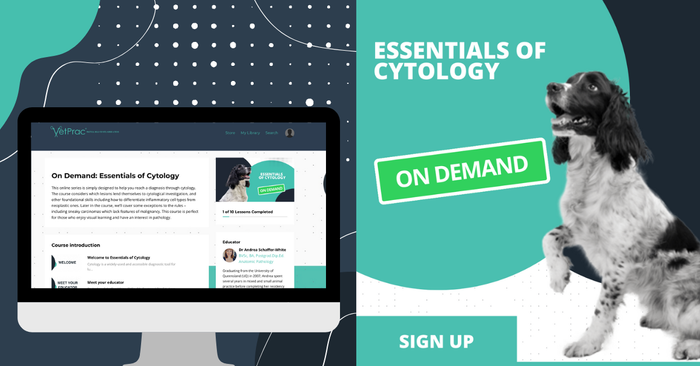 Dear Colleagues,
This year we launched a new online course called Essentials of Cytology, and it was a hit.
This course was so popular that we've decided to make it available for 6 months, using our new On Demand format.
How Essentials of Cytology will work for you:

// Instant access to course library with video presentations, resources & references

// Watch, rewind, replay & revisit at your convenience

// CPD certificate on completion with 8 CPD points

// Access stays open for 6 months

// One-time payment of $497.

We're really excited to share this course in a format which doesn't tie to you weekly webinar sessions. You can log on whenever and wherever it suits you, and we've taken the time pressure down a few pegs by giving you 6 months to complete the course.

Sound good? See for yourself at https://vetprac.com.au/on_demand/essentials-of-cytology/ and sign up today.

Yours in flexibility,

Margie and the Crew at VetPrac.