20 Feb 2020
Speaker in the Spotlight: Dr Shangzhe Xie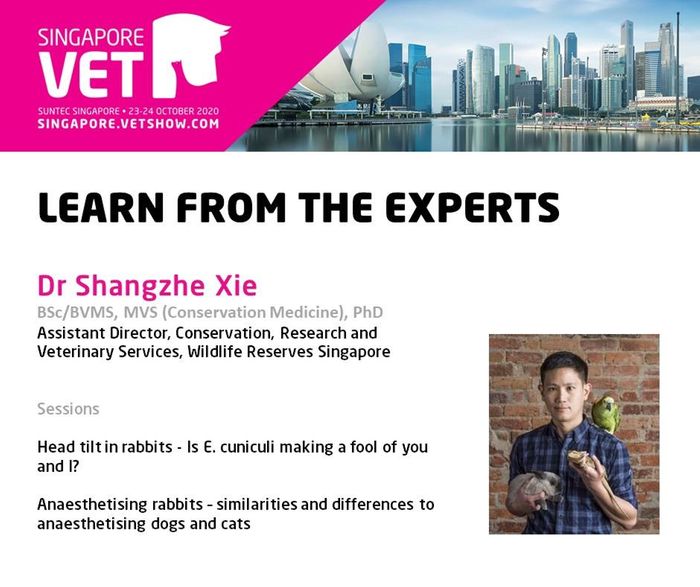 We spoke with Dr Shangzhe Xie, who will be speaking on Encephalitozoon cuniculi, and rabbit anaesthesia and cat/dog anaesthesia at Singapore Vet 2020. Read on to find out more about what he does and his sessions!
My name is Shangz and I am currently the Assistant Director of Conservation, Research and Veterinary Services at Wildlife Reserves Singapore. Wildlife Reserves Singapore manages world-leading zoological institutions — Jurong Bird Park, Night Safari, River Safari and Singapore Zoo — that aim to inspire people to value and conserve biodiversity by providing meaningful and memorable wildlife experiences. I am directly in charge of the Jurong Bird Park Avian Hospital, as well as overall veterinary research. In a previous life, I worked at exotic pet practices in a few countries, including USA, Australia and New Zealand.
Tell us about your sessions at Singapore Vet.
My first session is on the enigmatic rabbit pathogen, Encephalitozoon cuniculi. E. cuniculi has frequently been implicated as the cause of head tilt in rabbits, and I will present the existing scientific literature so that attendees can make up their own minds regarding the strength of the available evidence. I will also present other causes of head tilt, as well as the treatment modalities that have made a difference for the rabbit patients I have managed for head tilt.
My second session is a combined one where we will examine the similarities and differences between rabbit anaesthesia and cat/dog anaesthesia. This is a joint presentation, so the dynamics between my co-speaker and I could be interesting!
What do you aim to achieve throughout your sessions at Singapore Vet?
Before my current role, I have had parallel, but seldom overlapping, clinical and research career tracks. Even then, I have always searched for strong scientific evidences to back up my clinical decisions. I am fortunate in my current role to be able to combine both clinical and research work, using each to supplement the knowledge that is lacking in the other. I hope to get the attendees thinking in this same way by presenting scientific evidence (or sometimes lack of) that explain our diagnostic and treatment choices. More importantly, I hope that the attendees will leave with tips and tricks that will help increase their success in the medical and surgical treatment of rabbits.
Who should attend your sessions at Singapore Vet?
Anyone with an interest in rabbits and rabbit medicine and surgery should attend my sessions. Head tilt is a very common presenting sign of rabbits, and rabbit anaesthesia is essential for safe rabbit surgery, so whether attendees already see a tonne of rabbits in their current practice, or are interested in adding rabbits to their menagerie of patients, they will gain something from the sessions.
Why do you think it is important to bring Vet Show to Asia?
Asia, especially Singapore, is a true melting pot. I can say this with pride, having grown up in Singapore, left to explore the world, and then returned to raise my family. That experience has taught me that veterinary medicine in Asia is diverse and unique. The tropical climate favours propagation of pathogens, to the detriment of our patients. However, the availability of knowledge and pharmacological agents from all over the world help to minimize the ill-effects. Similarly, bringing the Vet Show to Asia allows the congregation of great ideas and camaraderie that can only benefit our patients.
Why should veterinary professionals attend Singapore Vet?
Veterinary professionals should attend Singapore Vet Show to learn, eat, drink and be merry! It is important to be reminded that no veterinarian in an island, and no matter the differences that may seem to exist amongst the profession, we all want to become better so that the health and welfare of all creatures great and small can improve.