01 Jun 2022
Zagro launched innovative products to solve the infestation of pets with internal and external parasites for small animals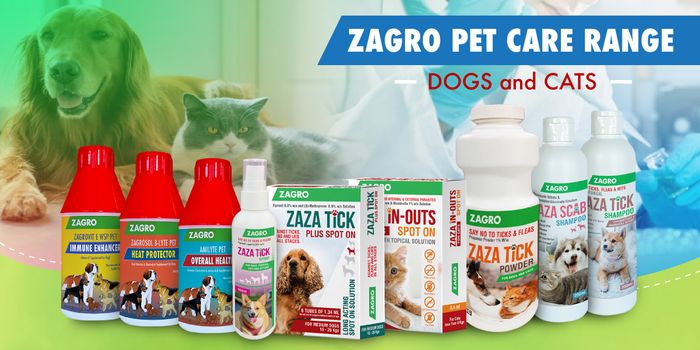 Zagro is a leading animal health company established in 1953 with the experience in animal nutrition & in health for many decades. Zagro owns 150 trademarks and 522 animal health product registrations in more than 70 countries.
Goble distribution and High-quality service
Zagro has continuously provided our customers with quality products and reliable service. By cooperation and relies on testing with Pacific Lab, a SAC-SINGLAS accredited and ISO/ IEC 17025:2005-awarded laboratory. Pacific Lab can help to test the nutritional active ingredients and also help to detect hazardous substances, including mycotoxin, melamine, heavy metals, and chemical pesticides. These are the harmful substances that have been paid great attention in pet products of food safety in recent years. We believe that through high quality and strong trust, we can keep making an effort for better service & product quality for our pets.
About the solution
Zagro provides innovative products for small animals, including internal and external parasite anthelmintic and many animal health care products. The formation and the dosage forms include powder (ZaZa Tick; Propoxur), spray (ZaZa Tick Spray; Fipronil), and spot-on (ZaZa Tick Spot on; Fipronil and (S) Methoprene solution). By providing a variety of dosage forms for us to treat our pets to have suitable products to solve the infestation of pets with internal and external parasites. Zagro topical shampoo products (Zaza Scab Shampoo) can also help the common fungal and bacterial skin disease problems and make our pets healthy and shiny fur.
Zagro pet health care products include liquid oral formulation, powders, and soft capsules, etc. Zagro design different types of formulated products for veterinarians and pet owners can apply the supplement in an easy and natural way. For example, AMILYTE PET is a water-soluble powder product covered with vitamins, minerals, and amino acids, which can solve in water for application. Pets can quickly achieve nutritional balance by drinking water.
For the protection of animal clinics hospitals and pet living. Zagro also provides ZAZACORONA as the safest environmental disinfection tool. ZAZACORONA contains Glutaraldehyde and Alkyl Dimethyl Benzyl Ammonium Chloride in a synergistic combination, which kills many groups of viruses. This combination of disinfectants is commonly used in healthcare facilities for disinfecting applications.
ZAZA PR is a hand cleaner, which composes 2% Pure Vitamin E and 70% alcohol, the perfect combination to inactivate viruses and bacteria while nourishing your skin at the same time. With ZAZA PR's non-irritating formulation, protect your hands from germs while also keeping them moisturized.
We sincerely welcome you to contact us to discuss animal nutrition and health solutions.
Visit us:
Zagro website: https://www.zagro.com/tw
Zagro Shop: https://shop.zagrohealth.com/
Zagro HQ FB: https://www.facebook.com/TheZagroGroup
Pacific Lab: https://www.pacificlabservices.com/