03 Jun 2019
Relaunch of Chicago Vet draws in huge crowd!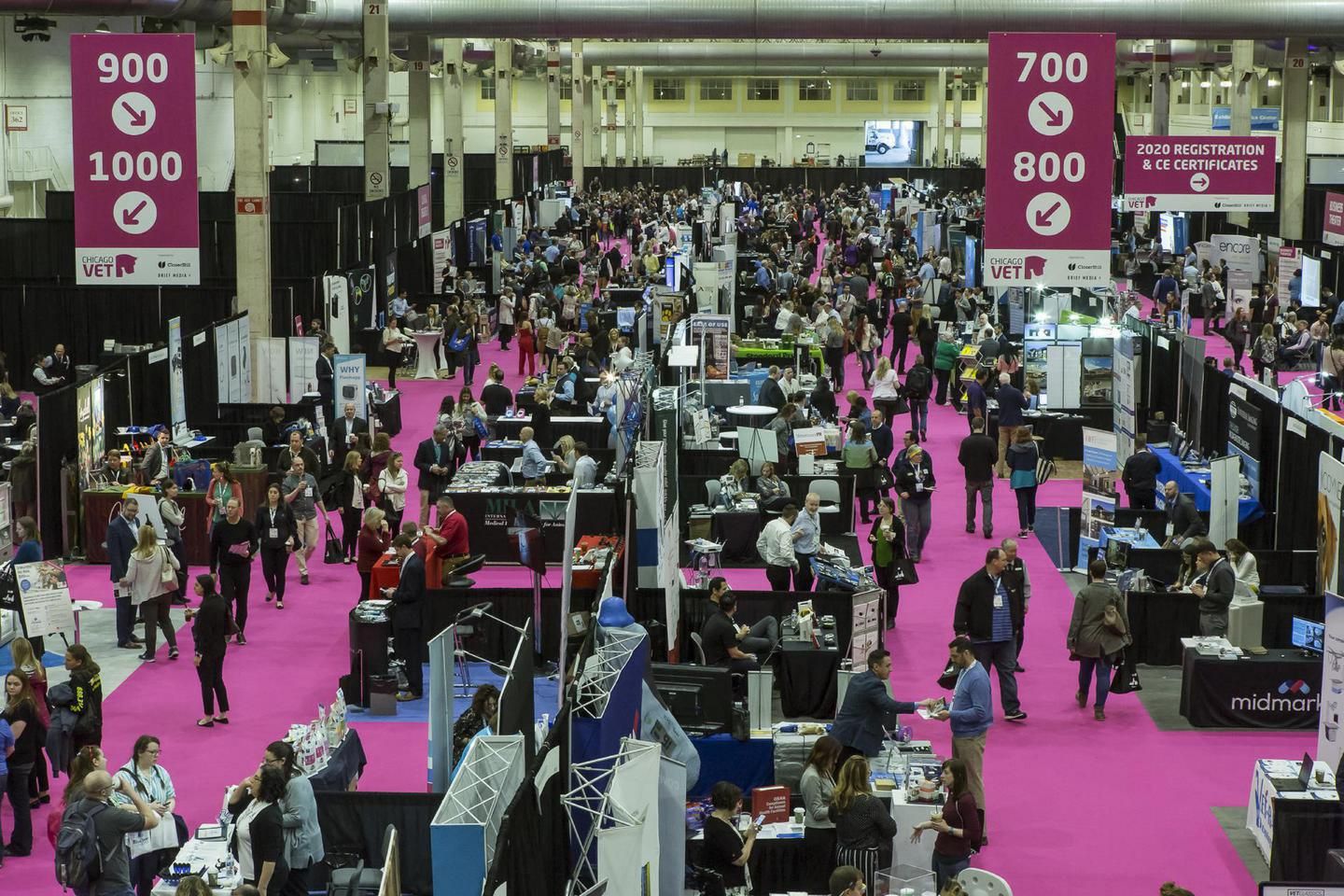 Over 1,600 attendees and 190 exhibitors gathered at Navy Pier in Chicago May 13 through 16 for Chicago Vet, a national veterinary conference with an exceptional selection of continuing education topics.
Chicago, Illinois, May 29, 2019 – After acquiring Chicagoland Veterinary Conference less than 6 months ago, CloserStill Vet US only had a short period of time to make improvements. The new conference format was applied, changing everything from floor plan to program in only a couple months' time.
Chicago Vet ended up featuring a comprehensive CE program with over 200 hours of RACE‑approved CE, developed by practicing veterinarians and the professionals behind Clinician's Brief. Sessions covered a variety of practical topics, from integrative approaches to chronic kidney diseases to increasing the value of your practice and property.
"We've had very different topics and lectures that I feel I haven't had at other conferences, which has been wonderful" said Dr. Yaicha Peters, DVM, attendee at Chicago Vet.
"It has been four amazing days," commented Rob Chapman, Managing Director of the CloserStill Vet Group. "We are extremely happy with the presence of so many veterinary professionals and industry-leading companies. With all their feedback we're already working on an even better 2020 edition, so we hope to welcome them back next year—or earlier at one of our other shows in New York, Reno or Austin."
CloserStill Vet US is a joint venture between CloserStill Media, organizer of Europe's largest veterinary conference, the London Vet Show, and Brief Media, publisher of Clinician's Brief and Plumb's Veterinary Drugs. In 2017, CloserStill Vet US launched New York Vet, its first US-based show, which will return to the Javits Center in New York City for the third time this November 7-8. In addition to Chicago Vet, the Vet Shows US portfolio includes Wild West Vet in Reno, Nevada, October 23-26, 2019, and Austin Vet, in Austin, Texas, April 20-21, 2020.
The Vet Shows portfolio is growing rapidly in the veterinary event space as attendees and exhibitors respond ecstatically to affordable events that offer high-quality CE in the trademark Vet Shows format. The innovative layout of these events allows for a steady flow between the exhibit hall and CE theaters, causing continuous traffic for exhibitors and creating a truly unique learning and networking experience for attendees.
"The difference between Chicago Vet and other conferences is that there's more traffic since there are classes all around the booths, which is nice" said Michael White, an exhibitor representing Weave at Chicago Vet. "As a result of this show, we've had more sales. We've done better than we thought we would."
Chicago Vet will return to Navy Pier May 13-15, 2020, with world‑class CE, a loyal community of exhibitors, and further opportunities to explore the Windy City. Using this year's feedback and with 12 more months of preparation, it promises to be another outstanding event. For more information or to register for next year's show, visit chicago.vetshow.com. To find out more about the other Vet Shows—including New York Vet, Wild West Vet, and Austin Vet—visit vetshow.com.
For further press information, please contact:
Laurie Bertholet
(646) 956-2974
l.bertholet@closerstillmedia.com
About CloserStill Media
Since 2010, we have won more awards than any other company in the Exhibition Industry. The two most contested awards: 6 Best Trade Show Awards in the last 7 years and 9 Best Marketing Campaign/Marketer Awards in the last 8 years. We build great audiences for you.
About Brief Media
Brief Media delivers premium peer‑reviewed content resources via Clinician's Brief, the #1 publication veterinary professionals read first, and Plumb's Veterinary Drugs, a digital and mobile‑friendly veterinary drug reference.